Black Fire Tequila Coffee Liqueur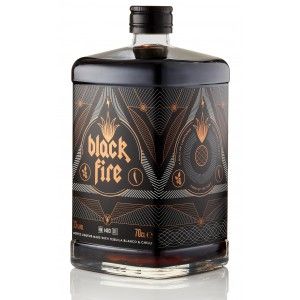 Black Fire Tequila Coffee Liqueur
Meer informatie
Black Fire Tequila Coffee Liqueur 700ml 33%
NATURAL - Black Fire combines three of earth's most natural highs; coffee, tequila & a hint of chilli showcasing the best of Mexico. This not so sweet coffee liqueur makes a killa espresso martini.
LESS SUGAR - Black Fire is cut with 50% less sugar than market coffee liqueurs. Our liquid looks like a spirit not a syrup which makes the experience drier, less sweet & better tasting.
NATURAL EXTRACT - Our tequila is made with rich arabica coffee, raw extract of cacao, an earthy agave blanco & a subtle peppery chilli finish, blended to perfection. A less sweet coffee liqueur.
UNIQUE DESIGN – Our square bottle cuts a unique shape in a market crowded with similar designs, which makes this coffee liqueur a fantastic gift.
NEAT OR MIX – First and foremost this is blended to create the ultimate drink neat. A coffee liqueur which uses all natural ingredients that doesn't need to be masked with excess sugar. Try Black Fire as a base or modifier for coffee cocktails such as our signature espresso martini, white Russian or coffee negroni.

Waarom bij ons bestellen?
Scherpe prijzen
Grootse collectie
Persoonlijk contact & advies
Veilig aankopen
Verzendkosten € 5,00
Vanaf € 90,= gratis bezorgd